(Ask about FREE lifetime training)
Puppies for Sale in Brooklyn
Welcome to the Largest Selection of Puppies in Brooklyn, NYC
We Carry the Following Breeds:
Labrador Retriever / German Shepherd / Golden Retriever / Cavalier King Charles Spaniel / Beagle / English Bulldog / French Bulldog / Yorkshire Terrier / Poodle / Rottweiler / Boxer / Siberian Husky / Dachshund / Maltese / Bichon Frise / Doberman / Great Dane / Cock-a-poo / Goldendoodle / Pomsky / Bichon-poo / And many more…
Perfect Health Guarantee
Free Dog Training
40 Year Experience
Free 1st Vet Visit
Free Training for Life with Your Puppy!
NYC Breeder is the ONLY New York City pet store with puppies for sale that offers FREE lifetime dog training. We serve residents in all boroughs and beyond.
In addition to our selection of designer and purebred puppies for sale, our New York City pet store offers professional pet grooming. You can also find pet supplies and food vetted by industry veterans.
On a budget? Call (718) 238-7387 and ask us about our financing options.
Looking for a Particular Breed?
Reach out to us here and we'll be in touch in minutes.
What People Are Saying About NYC Breeders
If I could give more stars I would. Most beautiful pet store I've seen and the facility is immaculate. Got my beautiful frenchie boy about a month ago and the staff all helped me out from fitting me with my baby and making sure I was trained on how to do the housebreaking correctly and behavior issues and everything... did I mention training is free!?!? Honestly why go anywhere else.
Jeremy Lopez
I really enjoyed my experience here! They were super friendly and helped me understand everything I need to be prepared to get a dog! I feel like they're very caring and passionate about making sure the puppies end up in the right home. They tell you the proper ways to train the puppies to ensure they feel safe in their new home.
Noelle Vigenser
The place is amazing! Dear Linda got us a dog we instantly fell in love with. After getting him home we realized he enjoyed love and excellent care in the store. It is so important to us! We will be back for guidance and just to say hi. We already recommend to our comnunity to visit this place. Thank you! See you soon!
Irena Ortega
Some of the Breeds We Sell
(Don't see the breed you're looking for? We have others. Call us at (718) 238-7387 to inquire.)
German Shepherd
They're smart. They're dependable. They're highly adaptable. And above all, they're loyal. In the dog world, German Shepherds are heroes. To see why German Shepherds are America's favorite dog, read on.
Pitbull
If you're looking for a lover and not a fighter, the Pitbull is the dog for you. At times, the Pity can be cute, dependable and calm, while at others, it can be rambunctious and playful. However, it's always loyal and loving, the perfect dog to bring home to your family.
French Bulldog
With one of the most human-like personalities of any dog breed, the French Bulldog is a favored breed for pet owners everywhere. However, because of how difficult they are to breed, they are rare—and expensive!
Golden Retriever
The "All American" dog, the Golden Retriever is a faithful companion that will follow you from room to room and everywhere else you'll let it go. Loving, loyal and protective, most people who adopt a Golden never go back.
Corgi
Cute and compact, the Corgi is the perfect dog for city dwellers. Corgis are happy dogs that are perfectly content with tagging along with you to Sunday brunch or chilling in your loft while you dine with friends in the evening.
Rottweiler
Confident, bold and imposing, the Rottweiler is the perfect dog for protecting you and your loved ones. If you are worried about armed robberies or other criminal behavior occurring at your home, a Rott will deter the bad guy and keep you safe. They're also loving and loyal, so don't discount him as a companion dog!
Yorkie
Tiny, cute and content to just sit on your lap all day long, Yorkies are ideal for people who are interested in low maintenance dogs and those accustomed to city living.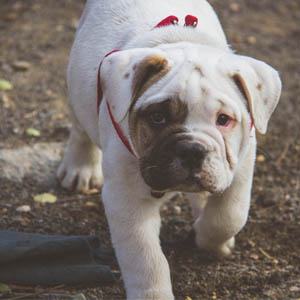 English Bulldog
The English Bulldog, like the French Bulldog, needs his human. Loving, cuddly and full of expressions, this breed needs a forever home, so only consider bringing him home if you intent to give him that.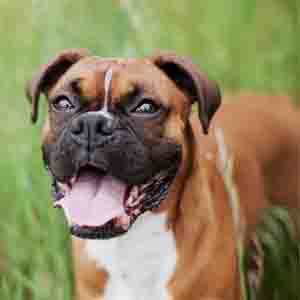 Boxer
Joyful, silly and fun-loving, the Boxer is the ideal pet for a family with small children. With high-energy levels and a 24/7 need for attention, this dog is perfect if you're seeking a walking companion, but not so much if you're seeking protection. As the adage goes, "A Boxer will lead a thief to the jewels for a pat on the head."
Pomsky
A cross between a Pomeranian and a Husky, the Pomsky is a designer breed that will make any passerby go, "Aw!" In addition to being cute, the Pomsky inherited the Husky intelligence and energy levels and the curiosity of his Pomeranian ancestors, making for a fun and energetic breed!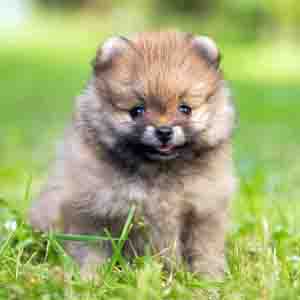 Pomeranian
The Pomeranian is curious and energetic and wants to go, go, go! While this can be great for a high energy pet owner, it can be a pitfall when you just want to sit and relax. Be prepared to be firm with this dog, as he has a stubborn streak that'll make you laugh and cry at the same time.
Shih Tzu
Despite his name meaning "little lion," the Shih Tzu is a lover, not a fighter, and is bred solely to be an affectionate, loving and happy house companion. Though he makes a great lap dog, he's smart enough to be trained to compete, so don't rule that out for your dog's future!
Pug
With a wrinkly face, short stature and cute little curly tail, a pug kind of reminds one of a teacup pig, and it's just as cute as one! With a great sense of humor and a desire to show off, the pug is full of spunk and personality oftentimes lacking in bigger breeds.
Dalmatian
With a history as a hunter, a firehouse dog and even a circus performer, the Dalmatian is charming, goofy and gallant all at once, and loves to be the center of attention.
Maltese
Gentle and fearless, the Maltese will greet everyone as a friend, but mess with his family and he'll quickly let you know who's boss. In addition to making the perfect family dog, the Maltese has also been used as a therapy dog and a sport dog!
Dachshund
Bred for the hunt, Dachshunds are smart and fearless. However, they also make good companion dogs, as they're affectionate, lively and protective.
Beagle
Small, merry and fun loving, the Beagle is the perfect companion dog for children and elderly individuals alike. However, they also come with a stubborn streak and a sense of curiosity that requires creative training techniques to reign in.
Doberman
Though large and ferocious looking, the Doberman is one of the most loving and loyal dogs a person could ask for. Smart, they can trained to be protective while still maintaining that loveable personality that won't scare of friends, family or the mailman.
Labradoodle
A cross between a Poodle and a Labrador, the Labradoodle is a smart and sociable dog who is easy to care for.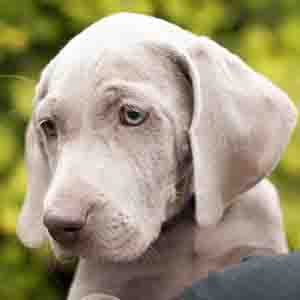 Great Dane
This breed's name says it all, as the Great Dane is truly a great dog to own! Highly intelligent, loyal and good-natured, his is the perfect dog for just about any dog owner.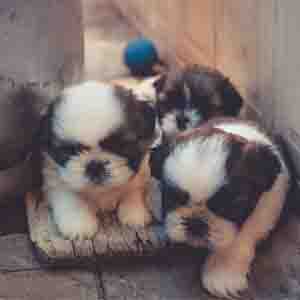 Teacup
From Teacup Yorkies to Teacup French Bulldogs, several breeds have been bred to be miniature and just plain adorable. If you don't have a lot of space, travel a lot or just aren't interested in a big, active pup, a Teacup may be right for you.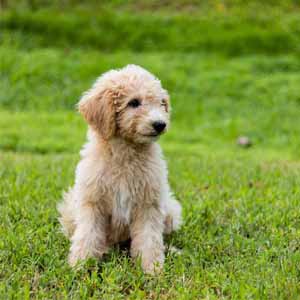 Goldendoodle
A designer dog, the Goldendoodle is a crossbreed between a Poodle and a Golden Retriever. As a result, it has all of the loveable characteristics of both dogs, with the loyalty of a Retriever and the poise and intelligence of a Poodle.
Boston Terrier
Originally bred to be fighting dogs, today they are affectionate and loyal companion dogs who just want to be loved by their owners.
Australian Shepherd
Despite his name, the Australian Shepherd was bred in the Western U.S. and used to herd cattle. Today, he still maintains his working heart but can be convinced to channel his intelligence and energy into sport and play.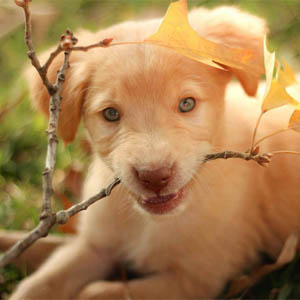 Labrador
Good natured and hard-working, the Labrador Retriever continues to be one of America's favorite dogs. Though he was originally bred to retrieve fishing nets, today he retrieves for hunters, assists the handicapped and aids in search and rescue.
Cane Corso<
Topping off at nearly 28 inches tall, the Cane Corso is an imposing breed that gives off the air of a trained bodyguard. He's a great protector, but when he lets down his guard, he can be loving and affectionate.
Morkie
A mix between a Maltese and a Yorkshire Terrier, the Morkie is full of personality and craves the attention of his owners. With high energy levels, he is playful and fearless, excitable and social. He is the perfect family dog for anyone with small kids and frequent guests.
Havanese
Bred in Cuba to be a companion dog, the Havanese was quickly given the nickname, "Velcro Dog" because he will never leave your side. However, he's not just a lapdog. With a surprising amount of agility and grace, he can be trained in sports and a number of canine careers.
Keeshond
Lively, alert and intelligent, the Keeshond was bred to be both a companion and a watchdog back in the 17th and 18th centuries. Today, he is more of a companion dog, as he's a people lover that just wants to be included in all family activities.
Chinese Crested
Though small, the Chinese Crested's intelligence surpasses most other dog breeds. Bred to be a companion dog for the invalid, the Crested doesn't need to be up and moving and will be content to lay around with you all day. Though not a social dog, once he bonds with you, he won't leave your side.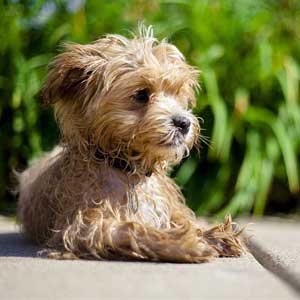 Maltipoo
A cross between a Maltese and a Poodle, the Maltipoo is active and charming, and is just the right size for all settings and people. Whether you live in an apartment or house, have small children or elderly parents, the Maltipoo is the dog for you.
Cavapoo
A cross between a Poodle and a Cavalier King Charles Spaniel, the Cavapoo is a popular dog as he is small, outgoing and healthy and gets along great with small children.
Catahoula Leopard Dog
Bred to work in swamps and forests, the Catahoula Leopard Dog is a dog with a strong work ethic and an even stronger sense of commitment and loyalty. Because he is strong willed, he requires a leader who is firm and consistent.
Akita
A large and powerful dog with a noble and intimidating presence, the Akita is the perfect dog for someone who wants to make a statement. However, when properly trained and socialized, he can make the affectionate and loveable family dog your children need.
Blue Heeler<
Also known as an Australian Cattle Dog, the Blue Heeler is intelligent and active. Today, he continues to thrive as a herding dog, but after a job well done, he is content to watch the home and play with the kids.
Chihuahua
A small dog with a big personality and an even bigger bark (he thinks!), the Chihuahua is not for everyone. However, he loves nothing more than being with his people, and with strict training can become the kind social creature you want him to be.
Westie
Nicknamed "Westie," the West Highland White Terrier has a lively nature and just wants to make you laugh. Friendly and happy, he endears to everyone, making him the perfect dog for those with children and frequent houseguests.
Goldador
A cross between a Golden Retriever and a Labrador, the Goldador is truly the best of both worlds. A great working dog with ultimate sensitivity and a high level of intelligence, this is the perfect crossbreed for the dog owner that wants it all.
Husky
With beautiful thick fur and piercing eyes, the Husky's intelligence is underrated. However, if you're going to adopt this breed, expect a strong and obedient dog that is bound to turn heads too.
Cavalier
The Cavalier King Charles Spaniel, while a relatively new breed, has more than a century of history behind it. Its curious name is taken from the fact that they are frequently given as companions to nobility and royalty.